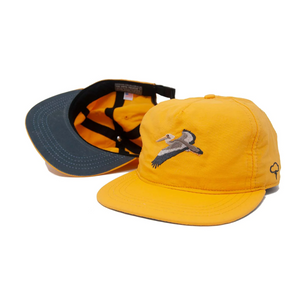 Creative Glider Gold Strapback
There's something special about Pelicans - they have an ugly grace as they effortlessly ride updrafts along unbreaking swell for miles.  Pelicans are also good signs for fishermen.  Diving birds mean there is bait in the water and probably fish as well.  Any seafaring enthusiast has to at least respect them.
The lightweight nylon unstructured upper, with a durable water repellent finish is perfect of a day on the ocean.  The wax canvas underbrim was chosen to blend with the sky, allowing all focus to be pointed toward the water.  We used our custom premium Koolnit Tech Sweatband, so its ready for all day adventures.  The Koolnit tech material is extra moisture wicking & breathable, while an extra layer of vinyl protects the hat.
Super Lightweight Nylon Upper w/ DWR coating
Wax Canvas Underbrim
Embroidered Pelican
 Unstructured Crushable Upper
Custom Ampal 3M Koolnit Tech Sweatband w/ Sweat Barrier
Ampal Unstructured Fit - unstructured like a vintage baseball cap but deep like a trucker or fitted hat.
Made in United States of America
Thank you for supporting American Made. 
Goods Made Here.
Why Common Deer?
FREE GIFT WRAP.  reusable and full of "wow", available on non-sale items $25+ only! individual items can be combined to get to this minimum.  
FAIR WAGE SHIPPING. our fulfillment team is paid fairly and most of our materials are reused from receiving! While this method takes more time, it means reducing our impact on the environment. 
MORE IN STORE.  only about 10% of our inventory is listed online. The store is the full experience and we can't wait to see your face.  
BEST GIFTS. we were voted Best place for Unique Gifts in Vermont by our community! 
SHOP SMALL. rest assured knowing your picks support families and employees of the little businesses, including ours! Thanks for helping us towards a diversified economy. 
BUY BETTER. there are so many reasons to support domestic products, to include jobs, higher standards of production, less overseas freight costs, less waste, better quality, and much more! We encourage you to buy less, buy better. Thank you for supporting American Made. 
Need it Wrapped?
Please write which items you'd like "gift wrapped" in the notes before submitting your order! We're happy to wrap non-sale items over $25 in our reusable burlap bags.