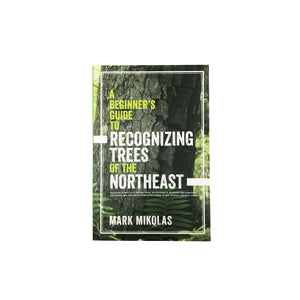 Beginner's Guide to Recognizing Trees of the Northeast
In this friendly and approachable field guide, writer and avid hiker Mark Mikolas shares a unique approach for year-round tree identification. His method, which centers on the northeastern United States where 20 species make up the majority of trees, will prepare readers to recognize trees at a glance, even in winter when leaves and flowers are not present. Mikolas's secret is to focus on the key characteristics of each tree―black cherry bark looks like burnt potato chips; beech and oak trees keep their leaves in winter; spruce needles are pointed while balsam fir needles are soft and rounded at the ends. Some trees can even be identified by scent. Location maps for each of the 40 species covered and more than 400 photographs illustrating key characteristics make the trees easy to identify. Mikolas also explains how to differentiate between similar and commonly confused trees, such as red maple and sugar maple.  
A Beginner's Guide to Recognizing Trees of the Northeast is a book to keep close at hand wherever trees grow.
400 color photographs. Paperback, Printed in the U.S.A.
Thank you for supporting American made.
Goods Made Here.
Why Common Deer?
FREE GIFT WRAP.  reusable and full of "wow", available on non-sale items $25+ only! individual items can be combined to get to this minimum.  
FAIR WAGE SHIPPING. our fulfillment team is paid fairly and most of our materials are reused from receiving! While this method takes more time, it means reducing our impact on the environment. 
MORE IN STORE.  only about 10% of our inventory is listed online. The store is the full experience and we can't wait to see your face.  
BEST GIFTS. we were voted Best place for Unique Gifts in Vermont by our community! 
SHOP SMALL. rest assured knowing your picks support families and employees of the little businesses, including ours! Thanks for helping us towards a diversified economy. 
BUY BETTER. there are so many reasons to support domestic products, to include jobs, higher standards of production, less overseas freight costs, less waste, better quality, and much more! We encourage you to buy less, buy better. Thank you for supporting American Made. 
Need it Wrapped?
Please write which items you'd like "gift wrapped" in the notes before submitting your order! We're happy to wrap non-sale items over $25 in our reusable burlap bags.