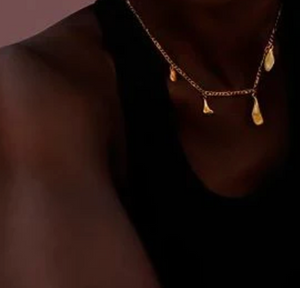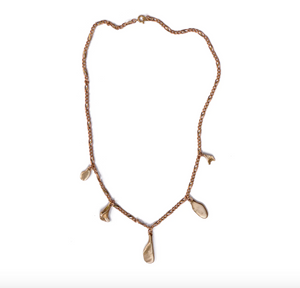 Ocean Charmer Brass Necklace
Unique charms collected from the sea, then cast in solid brass. Adjustable up to 18" by hooking the clasp through the links in the chain. Crafted in Oakland, CA.
BEACH STONES COLLECTION
Made from real stones that I collected from one of my favorite beaches in California, BEACH STONES celebrates the organic fluidity and spontaneity that occurs in an ocean-tumbled stone. Each stone I collected was cast from it's 100% original shape.BEACH STONES was designed by me with a little help from my friend, The Ocean. 

To all you secret crustaceans, you tardigrades, you anglerfish, you merpeople:
Let's pretend we are swimming today. Let's let the waves wash over us with salty sparkles and cool caresses.
Let's let the sand get in our hair and under our scales and in our gills.
⠀⠀⠀⠀⠀⠀⠀⠀⠀
I feel the webbing growing in between my fingers and toes... 
Made in United States of America
Thank you for supporting American Made. 
Goods Made Here.
Why Common Deer?
FREE GIFT WRAP.  reusable and full of "wow", available on non-sale items $25+ only! individual items can be combined to get to this minimum.  
FAIR WAGE SHIPPING. our fulfillment team is paid fairly and most of our materials are reused from receiving! While this method takes more time, it means reducing our impact on the environment. 
MORE IN STORE.  only about 10% of our inventory is listed online. The store is the full experience and we can't wait to see your face.  
BEST GIFTS. we were voted Best place for Unique Gifts in Vermont by our community! 
SHOP SMALL. rest assured knowing your picks support families and employees of the little businesses, including ours! Thanks for helping us towards a diversified economy. 
BUY BETTER. there are so many reasons to support domestic products, to include jobs, higher standards of production, less overseas freight costs, less waste, better quality, and much more! We encourage you to buy less, buy better. Thank you for supporting American Made. 
Need it Wrapped?
Please write which items you'd like "gift wrapped" in the notes before submitting your order! We're happy to wrap non-sale items over $25 in our reusable burlap bags.